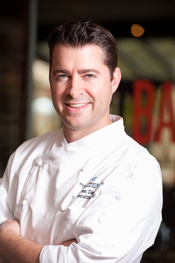 Brian Dandro
Executive Chef/Director of Food and Beverage
Royal Sonesta Boston
A Massachusetts native, Chef Brian embraces using fresh, locally sourced ingredients whenever possible, as well as designing and tailoring menus to best reflect the local seasonal bounty. He has made changes to menus throughout the hotel to utilize the products of several local farms and purveyors to add a taste of New England to the meals produced.
Opting for the school of hard knocks, Dandro turned down his acceptance at Johnson and Wales University to enroll in a 3 ½ year ACF culinary apprenticeship at the Castle Restaurant in Leicester, Massachusetts. Dandro comments, "To me, this was culinary boot camp. Being a family-owned, classic French restaurant with a scratch kitchen, you not only had to learn how to cook, you had to learn how to work hard and fast if you wanted to stick around.
Upon graduation of the apprenticeship program in the fall of 2000, Dandro moved to Boston and got his first taste of a hotel kitchen when he joined the culinary team at the Seaport Hotel/World Trade Center. Over the next five years he was banquet cook, line cook, saucier and culinary supervisor. Eager for a Sous Chef position, in 2005 Dandro crossed the river to become the Restaurant Sous Chef at the Hotel @ M.I.T. in Cambridge, which is now Le Meridian. After promotion to Executive Sous Chef in his first year of employment, Dandro's role expanded to oversee all culinary operations in the hotel. In 2007, Dandro left Boston to take part in the opening of the Hilton Fort Lauderdale Beach Resort as the resort Sous Chef.
Having fulfilled desire to open a newly built hotel, Dandro moved back to New England in 2008. At this point in his career he went to work for Chef Daniel Bruce as the Sous Chef of Meritage restaurant. Three months into his stint at Meritage, Dandro was contacted to join Royal Sonesta Boston as Executive Sous Chef and challenged to re-concept and open the newly-renovated restaurant, ArtBar. In May of 2011, Dandro moved into his current role as the Executive Chef, where he oversees the hotel's banquet and conference meals, as well as the ArtBar restaurant, private dining room and patio.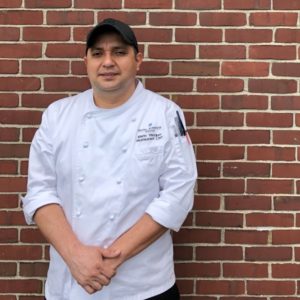 Mario Vasquez 
Restaurant Chef
Originally from El Salvador, Chef Mario Vasquez incorporates a Latin influence into the dishes he creates as Restaurant Chef at Royal Sonesta Boston. He is responsible for creating new menus and recipes, in addition to managing functions and food production for the hotel's restaurant.
Vasquez began as a line cook before working his way up to Restaurant Chef. Before his employment at Royal Sonesta Boston, he worked side by side by the Head Chef at Hilton Hotel as a First Cook. He has also worked as a trainer at Cheesecake Factory, where he taught new employees how to execute recipes properly.
When he's not working, you will find Vasquez cooking for his son's football team on game nights. He is passionate about food and gives back to his community through his love of cooking.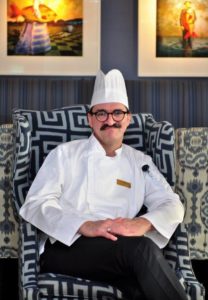 Cedric Beguin
Pastry Chef
Pastry Chef Cédric Beguin was raised in Versailles, France with a family who loved to cook and frequently gathered around the dinner table. His passion for baking began as a fascination with his grandmother's baking and his experience in his father's bistro south of Paris.
Beguin absorbed the French culture and ideals for food during the many summers spent traveling around France and working in local bakeries.
His expertise in baking adds flavor and zest to the Royal Sonesta where he currently works  to create impressive plated desserts and spectacular banquet sweets.